Trigeminal Neuralgia Treatment | Dr. Prem Pillay, Singapore
WHAT IS THE CAUSE OF TRIGEMINAL NEURALGIA?
The 5th cranial nerve also known as the trigeminal nerve is the nerve that supplies feeling and movement to the face.
Trigeminal neuralgia may be caused by a tumor pressing on the trigeminal nerve or a blood vessel that presses on the trigeminal nerve. In some patients the cause cannot be determined. In 5% of patients, trigeminal neuralgia may be associated with multiple sclerosis.
TREATMENT OF TRIGEMINAL NEURALGIA :
MEDlCATIONS
STEREOTACTTIC RADIOSURGERY
RADIOFREQUENCY ELECTROCOAGULATION, GLYCEROL INJECTION.
BALLOON COMPRESSION OF THE GASSERIAN GANGLION.
MICROVASCULAR DECOMPRESSION (MVD).
 
STEREOTACTIC SURGERY FOR TRIGEMINAL NEURALGIA:
Stereotactic radiosurgical treatment of Trigeminal Neuralgia is the most recent and least invasive neurosurgical treatment for Trigeminal Neuralgia. It is also the neurosugical treatment that is least likely to cause complications as no surgical opening is made so the major risks of surgery which are infection, bleeding and death do not occur. Also the risk of causing facial numbness and new facial sensations (dysesthesias) are very much less than other surgical procedures.
SUITABLE CANDIDATE
Any patient with trigeminal neuralgia who has failed medication because of lack of pain relief or undesirable side-effects is an excellent candidate for Stereotactic Radiosurgery.
As Radiosurgery does not involve any open surgery, elderly patients and patients with other medical conditions can undergo radiosurgery. Also patients who have undergone other procedures for trigeminal neuralgia may undergo radiosurgery.
GAMMA-KNIFE OR LINAC RADIOSURGERY?
Both the Linear Accelerator and the Gamma-knife are tools for Stereotactic Radiosurgery.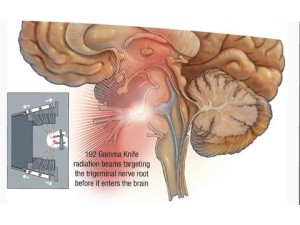 HOW DOES STEREOTACTIC RADIOSURGERY WORK TO TREAT TRIGEMIMAL NEURALGIA?
Stereotactic Radiosurgery is designed to deliver a high dose of radiation in one session to the target lesion with scapel-like precision, with minimal damage to surrounding tissue. For trigeminal neuralgia the target is the trigeminal nerve close to where it leaves the brain.
A stereotactic frame or navigation box is fixed to the patient's head. The treatment is a day-surgery procedure. The patient can return to his normal activities immediately after treatment.
4 STAGES OF STEREOTACTIC RADIOSURGERY TREATMENT
Stage 1
A navigation box is firmly fixed to the patients skull. This allows for the precision and accuracy of treatment stereotactic radiosurgery.
Stage 2
The patient is sent for a treatment planning MRI of the brain.
Stage 3
The neurosurgeon and his team (which includes the radiation oncologist, and the physicist) using 3-dimensional computer images plan the treatment and decide on the radiation dose to be given. The Neurosurgeon is the leader of the team as he is the brain expert.
Stage 4
The patient lies down on the treatment couch for the radiosurgery treatment. This is an entirely painless procedure. At the end of the stereotactic radiosurgery treatment, the Neurosurgeon removes the navigation box.
WHAT ARE THE RESULTS ?
Studies done in Sweden, the USA, Japan arid Singapore show that good pain relief is obtained in 80 – 90% of patients.